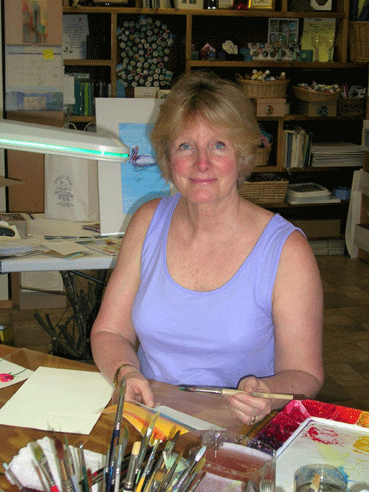 Watercolor has opened a door into the most fulfilling lifestyle imaginable. Being a prolific painter I've created a greeting card line printing copies of my paintings and then embellishing every one.

The line has been well received and is extensive in the variety of subject matter. The joy that I experience while making these one of a kind greeting cards, is transferred to the images, as I am often told that my paintings make people happy.
I was born and raised in New York.  I studied art in England where I met my husband.  We were married in 1969 and have had many adventures in several different areas until settling in the Blue Ridge Mountains of North Carolina. 
Initially, I found that the happy distractions of a son and a daughter plus a family business kept my paintings small.  A tiny treasure could be painted in a few spare minutes.  The vivid colors and transparency of the medium proved to be a reliable source of joy.  Soon these tiny paintings found their way onto greeting cards for family and friends and then into galleries and fine gift shops through my company, "A Small Work of Art"®.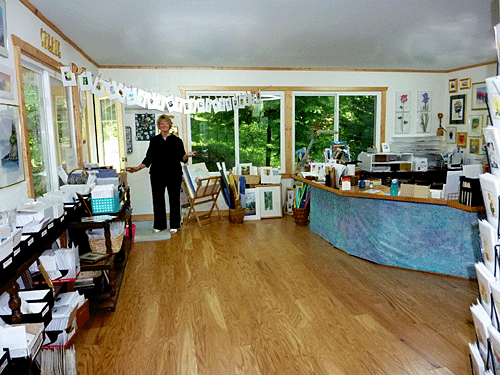 I enjoy sharing the simplicity and spontaneity of watercolor with everyone.  Teaching students how to play with the medium is very rewarding. This website will allow me to reach out to students beyond my geographic area and share my joy of the creative process.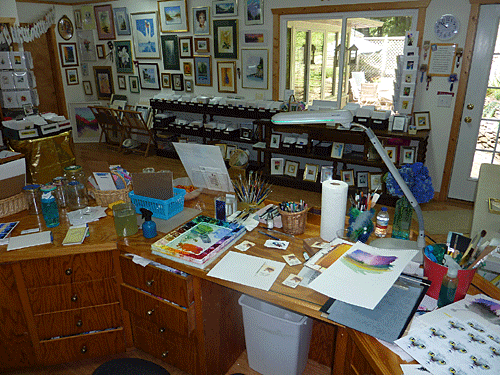 Having a dedicated area to paint/craft is a real gift, however, the most determined, creative person can accomplish wonderful things anywhere.  I love showing my students the paintings that I've made on planes.  There are even several sketches on the backs of napkins that I've turned into watercolors for cards.
Having the will to be creative is a powerful door opener.  Even if you find painting intimidating, wonderful greeting cards can be made using your camera and some embellishing technique that I demonstrate on this site.
Delight the recipient of your card with a picture of themselves enhanced in so many clever ways, the possibilites are endless.