Get Well Cards
---
---

Get well cards are so important.  Delight the recipient with a one of a kind card that is sure to bring a smile. 
To see any card enlarged, just left click on it.
This will take you to a slideshow of the whole page.
Tip: Move the cursor off the card to remove the thumbnails.

Pricing Options
Individual cards are $5.00 each.
Click here to see pricing discounts.
Frame ready, matted 8" x 10" prints    $20.00 each.

---
Dunes Thinking of You
Here's a serene Get Well or Condolence card that reaches out to the recipient in several ways.  The two birds signify friendship and the calm sea is relaxing.  Even the sun is shining as seen by the blue shadows.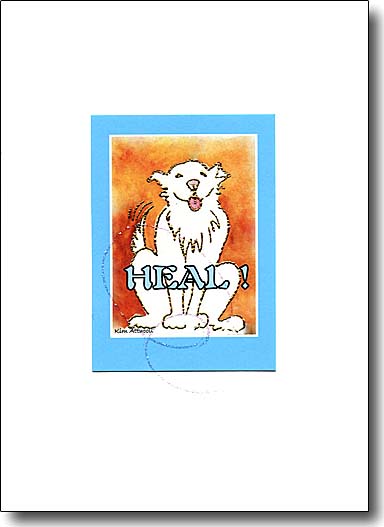 Happy Dog Heal
Bring a smile to the recipient's face with the command issued by this happy dog.  It is sure to get the message across ..his wet nose and tongue  help.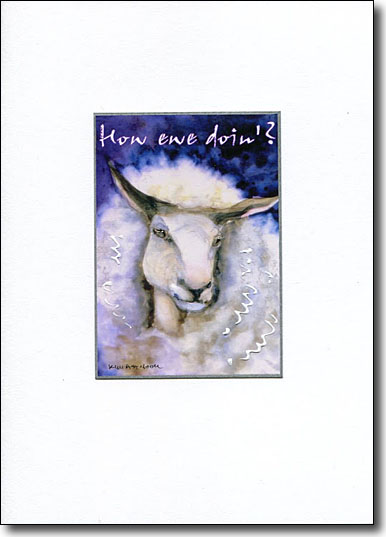 How Ewe Doin'?
Joey from "Friends" made the question universal....I tweaked it with this woolly sheep painting and a whimsical play on words.

Thinking of You
A soft, sweet portrait from my imagination carries the message that you are in our thoughts. I enhance this card by carrying her hair out of the image onto the white card.
Miss You
A bluejay feather is a simple way to send a message that we want you back soon.  It focuses on how much you are missed. Native American lore sees the bluejay as fearless, resourceful and vigilant.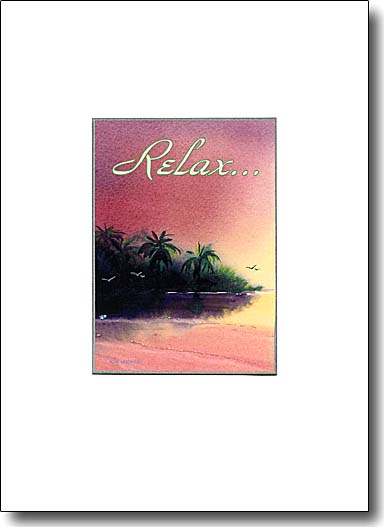 Pink Sky Relax
Send a warm calming picture with the word "Relax".  It's bound to capture their attention for a while as they lose themselves in the pink dawn with slow moving water and coasting birds.

Poppy and Stethoscope
This was painted for a beautiful young doctor, Lee Ann.  It is meant to show the strength of science and the beauty of nature entwined.  Perhaps a great card to thank the doctor with?
Sweet Peas Get Well
These sweet peas are sure to cheer up the recipient.  I wish I could paint the magical scent of them.  They're enhance with bright color dots.

Bandaid Bouquet
A floral Get Well card.  This bunch of flowers is held together with a Bandaid.  It's whimsical and so appropriate.  I embellish the image with four raised dots of color.

Breathe
A seminal command that seems to simplify the complications that arise when fear and confusion dominate.  I use it on an eye catching  landscape in the hope that it will get the message across.
Feel Better Fast
This bright seascape will put the image of a different view to suggest an escape from the present.
Lily on Gold
Thinking of You
My white lily painting is very popular.  Here it is as a Thinking of You of You card.  Perfect as a Get Well card.  The vibrant colors will bring energy with them and it will stand out from all the other cards.  You'll be happy you've chosen this one.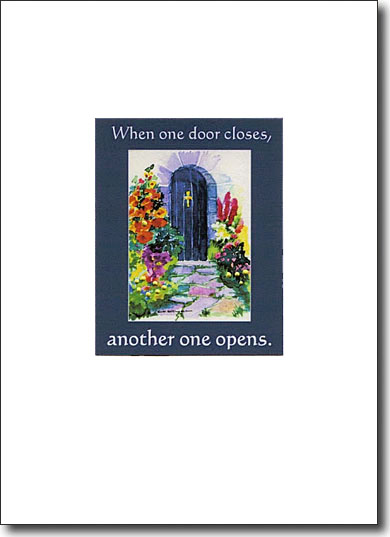 When One Door Closes...
Don't you love this saying? It's so hopeful.  The reality of change can be very unsettling so consider writing "....but the hallway's a bitch" on the inside.  Everyone gets it and it usually elicits laughter.

Mouse Best Wishes