A Father's Day Card for that
Special Guy

---
---
To see any card enlarged, just left click on it.
This will take you to a slideshow of the whole page.
Tip: Move the cursor off the card to remove the thumbnails.

Pricing Options
Individual cards are $5.00 each.
Click here to see pricing discounts.
Frame ready, matted 8" x 10" prints    $20.00 each.

Show Dad how very special he is by giving him a one of a kind Father's Day card.

Happy Father's Day Highland Cow

....Dads will chuckle when they get this Father's Day card,  the big hairy beastie has a wet shiny nose.
Happy Father's Day Fly Fishing
This card is alive with movement.  The silver pen is used to enhance the cast and there are sparkles on the water.  You know this card will be his favorite if he's ever been fly fishing.

Wake Happy Father's Day

This Father's Day card will be perfect for Dads who love being on or near the water.  The enhancement is the wake behind the boat being carried over to the card.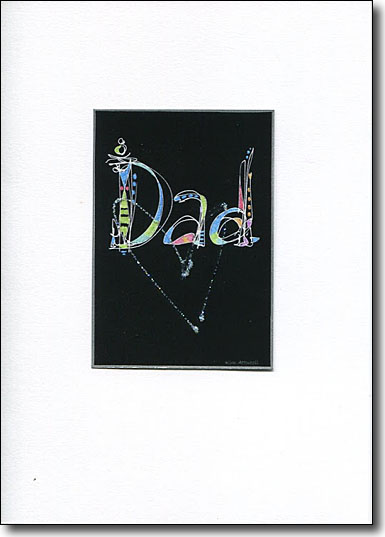 Dad
Special letters for a Very Special Dad.  He will love the vibrant calligraphy on this Father's Day card.  It's embellished with a sparkle flourish.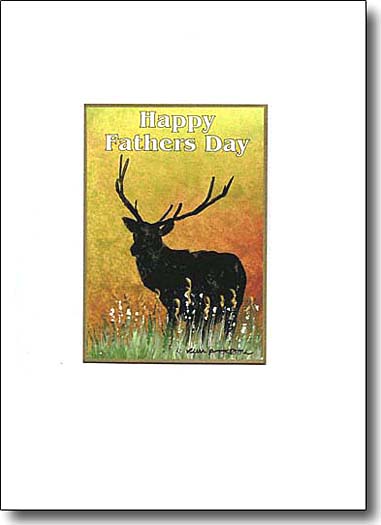 Happy Father's Day Stag
A handsome stag is iconic for strong male.  I show that in this image and it make a perfect Fathers Day card.
Happy Father's Day On the River

For fishing fathers this Father's Day Card sets the scene that they love, getting out in a boat on a misty morning.
Happy Father's Day Golfing
If Dad is a golfer, this is a great card for him.  I enhance the direction of the swing on every one.