Bird Greeting Cards and
Other Critters Too!
---
---
Have fun with these ever popular bird greeting cards and all the other creatures that joined the parade.

To see any card enlarged, just left click on it.
This will take you to a slideshow of the whole page.
Tip: Move the cursor off the card to remove the thumbnails.

Pricing Options
Individual cards are $5.00 each.
Click here to see pricing discounts.

---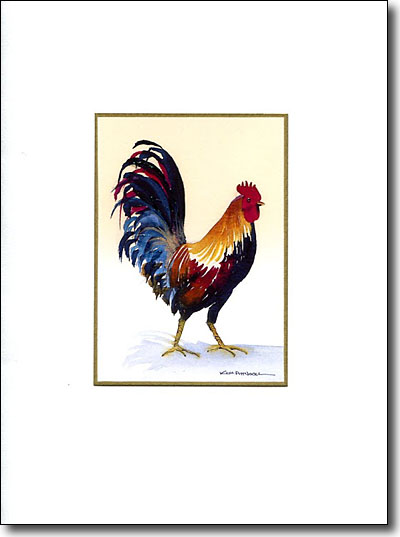 Rooster
My preening rooster is one of my favorite bird greeting cards.  He's enhanced with hologram sparkles on his tail feathers.  Every man should have one!


Great Blue Heron

My painting of the great blue heron is embellished on each card with  painting if the tall reeds.  It is a best seller among my bird greeting cards.


Max
Are you smiling?  This card always makes me smile.  As I embellish it with sparkly whiskers and cut out around his tongue, I feel his enthusiasm and love of life.

Fox
This card shows a fox sleeping in the snow.  It seems to touch many people.  Perhaps it symbolizes persistence, patience, adaptation.  The snow sparkles above the fox and his whiskers glisten in the cold.

Swans
My painting of swans is a powerful image in simple colors.  It's a wonderful wedding or anniversary card as swans mate for life.  The embellishment is sparkles on the water.

Chickadee
Bird lovers will be delighted to receive this all-occasion greeting card.  The chickadee is perched on a branch that is painted out onto the card.

Sea Turtle

This painting comes to life when I add the bubbles. It will delight nature lovers.  The turtle is a symbol of endurance, strength, longevity and stability.


Frog on Red

How can you not respond to this green fella looking out at you?  The red background was deliberate as they are colors that are opposite on the color wheel and therefore pack a punch when put together.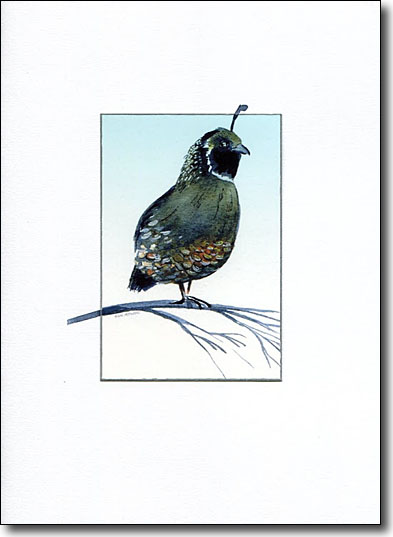 California Quail

What a whimsical character.  this plucky bird came out of the image in two places.  It's an all-occasion card that frames beautifully.

Loon
A symbol of the northern woods.  The sound of loons on the lake is known to many.  I embellish this card by painting the tail feathers on the card.  It's the perfect card to send to lovers of lodge and the northern woods.

Bluebird on Grape Wreath

This glowing image is embellished with raised tall grasses.  It's a masculine card and is perfect to send to men as a birthday card or Father's Day card.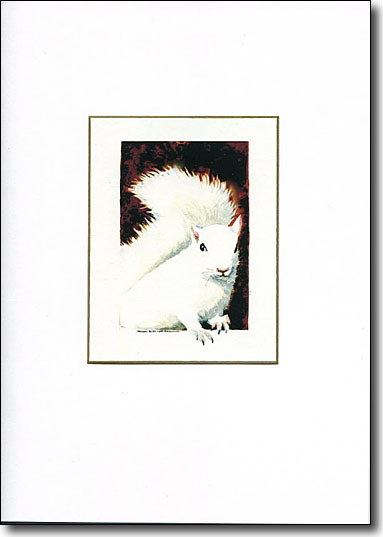 White Squirrel

White squirrels are rare creatures.  This one is peeking in your window.  His whiskers sparkle.  This all-occasion card will bring a smile to the recipient.  A fun greeting inside could be "You're a rare breed!"